Let us help you with your Fiber Optics needs
Click on the Gallery button below and have a look at our Fiber Optic craftsmanship & projects!
PCS specializes in the assessment, installation, design, and maintenance of single and multi-mode fiber optic cabling systems in any environment. Fiber Optic backbone cabling is rapidly becoming the premier choice for connecting server rooms, school grounds and multi-story buildings. Fiber Optics cabling is economical and straightforward which makes it an ideal choice for extending all types of Network, Communications, VoIP, Security Access Control and CCTV systems.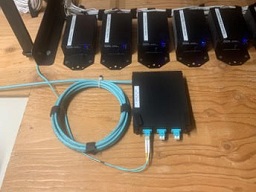 PCS Fiber:
Fiber Optic Installers of Single & Multimode
Fiber Optic Termination, Testing & Certification
Fiber Optic Backbone & Demark Extension
Network Connections Between Buildings
Fiber Optic Contractor
Fiber Optic Splicing
Fiber Optic Design
Fiber Optic Fusion Splicing
Fiber Optic Repair