Vertical Summit Telephone System
The latest version of Vertical's highly successful UC solution offers even more powerful applications and advanced UC features for meeting the demands of small and medium-sized businesses in any market. Simple to install and maintain, the Summit is ideally suited for 5-50 users, with the ability to easily expand and accommodate up to 140 users. The Summit remains a competitively priced feature leader. PCS offers the new Vertical Summit Premise Based Phone System Solution.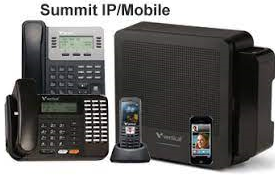 Cost-effective hybrid IP/TDM architecture to support advanced UC and mobility applications for the desktop and smartphones, 2 FREE Summit UCS Mobile Client licenses included:
2 FREE Summit UCS Desktop Client (softphone) licenses include Integrated Auto Attendant
Voice mail w/email notification Unified messaging
Automatic Call Distribution (ACD) Call recording
Voice conferencing
SMDR (Station Message Detail Reporting) Multiple language support
Green power save
New Summit UCS Desktop and Mobile clients for more powerful multimedia collaboration and call control capabilities.**
Real-time presence-based call routing and management at a glance, 6-way videoconferencing
1:1 mobile video calling
Click-Call direct dialing from numbers in Web pages and other Windows-based files, Enhanced IPCR Call Recording capabilities, including on-demand and/or systemwide recording and call monitoring, and multi-party conference call recording
Improved GUI for even easier system configuration, programming and management
Applications available with Summit v2.0 only. Licenses required. Replaces Summit Communicator software & Phontage softphone in v1.0. Summit UCS Desktop w/Voice and UCS Mobile clients available in v2.0 only. Two (2) free licenses included with each system. Additional UCS client licenses sold separately.